Bill Gates Traveling Wave 4th Generation Terra Power TWR Nuclear Reactor Analyzed - The Nuclear "Renaissance" is Over; Zero Carbon, Zero Nuclear Renaissance Is Starting In Attempt To Stop Global Extinction Event Caused By Nuclear Industry
PHYSICIST MICHIO KAKU SAYS NUCLEAR POWER CONSISTS OF A FAUSTIAN BARGAIN, WHERE YOU HAVE TO SELL YOUR SOUL TO GET SOMETHING
Michio Kaku: Nuclear Power Is a Faustian Bargain
VIDEO:
https://youtu.be/ITpuoH1z7rY?t=28s
The U.S. hasn't commissioned a new nuclear plant since before the Three Mile Island meltdown in 1979, and will soon have to decommission all its aging reactors. What, if anything, will replace these nuclear plants?
Medical doctors and nurses are not taught about the harm that radiation causes. They believe and are taught that they are helping, when they are actually hurting people. Learn about the truth about the harm caused by low dose ionizing radiation emitted from all nuclear reactors, including the Bill Gates version...
NUCLEAR RENAISSANCE IS OVER AND DEAD, BUT BILL GATES CLAIMS THE OPPOSITE
Bill Gates Traveling Wave 4th Generation Terra Power TWR Nuclear Reactor
Bill Gates talks about gen 1, 2, 3 and 4 nuclear plants. He says that today's nuclear reactors work 'very well'. He claims that by 2028, the demonstration project will be proven and successful, if everything goes perfectly. On paper, everything is perfect for this or any other 'new' nuclear reactor.
He says plutonium reactors are bad, because a plutonium (MOX) powered reactor is messy, the processing to get plutonium fuel is expensive and getting plutonium the way it is done now is environmentally 'difficult'. (However, this 'new' style of 'breeding' reactor is also producing plutonium, one of the most dangerous, most toxic materials on the face of the Earth.) His claims do not match the reality, as shown by the following article, including economics, accident history, investment, and much more.


NUCLEAR RENAISSANCE IS OVER AND DEAD, ONLY ZOMBIES ARE BEING CREATED
In the Terra Power reactor, Gates proposes to both burn and breed plutonium fuel. The Terra Power reactor burns the 99.3% depleted uranium and breeds plutonium at the same time, within the same 'cylinder'. He says there is enough depleted uranium to power the US for hundreds of years and enough fuel in the ocean that can be extracted to power humanity for the infinite future. (Pro nuclear apologists made the same claim for nuclear power; clean, green and cheap or free electricity, with no drawbacks and unlimited electricity from nuclear for tens of thousands of years.. remember?)
Bill Gates says that all you have to do is 'convert' the depleted uranium to usable fuel, much like a breeder reactor, and then burn it, right after it is 'bred' into plutonium.
The 4th generation Terra Power reactor that Bill Gates is so excited about is around a Gigawatt in size. He says that it does not scale down very well. He says on paper it works very well, and that it is cost effective, because the fuel is 'free', because it would use the waste product generated by the nuclear industry; depleted uranium. (The pro nuclear apologists said the same thing about standard uranium produced nuclear power; it was to be free, green and clean power, remember?)
He says no human being is required for a Terra Power nuclear plant that burns waste products, emits nothing harmful and creates massive amounts of energy. By extension he is also claiming that it has no harmful waste by products, no harmful emissions will be produced and that by 2022, a demo reactor will be in place.
His goal is that by 2028, traveling wave reactors can be replicated and put everywhere, all over the world, providing cheap or free, clean, green nuclear power. Again, the same claims have been made by the nuclear industry since the beginning of the fission age, and the opposite has happened, in all cases, from then until now.
Even if his paper concept works perfectly, by the time he gets it to work, climate change will be in full swing and the negative tipping points will be hitting humanity hard; and it will be too late to start building these things, which will take another ten years to finish from there. Even under the best circumstances in a perfect world, it will be too little, too late. Of course, there is no perfect world, especially not with nuclear, and the promises plus hype never panned out. The promises always turned into nightmares.
2015 - PROPOSAL AT COP21 BY BILLIONAIRES OFFERING BIG MONEY FOR BIG NUKES VIA THE BREAKTHROUGH ENERGY COALITION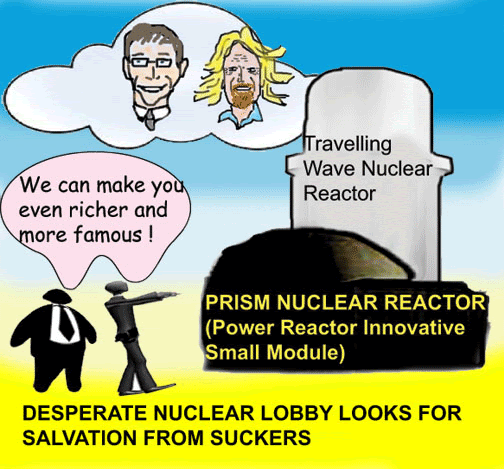 Is Gates's 'Breakthrough Energy Coalition' a nuclear spearhead?
Ecologist, Linda Pentz Gunter 6th December 2015
Last week a new billionaires club strode into COP21 in Paris promising big money for 'clean energy': the Breakthrough Energy Coalition. But most of its members are nuclear obsessives, writes Linda Pentz Gunter, from
Bill Gates to Jeff Bezos and Richard Branson.
And what the the world needs is not 'patient investment' into nuclear research, but impatient investment into renewables deployment. The first question that crossed my mind when reading about the latest Bill Gates investment venture was "is this a cover to divert yet more money into nuclear energy?"
Read more of this post
BILL GATES SAYS NUCLEAR IS SAFE, BUT ACTUAL TRACK RECORD PROVES THE OPPOSITE IS THE CASE
Bill Gates says the overall safety record of nuclear energy is 'safer' than other energy sources, because only three accidents have happened in the history of nuclear power. According to pro nuclear apologists, only a few people have died in the history of nuclear bomb testing and nuclear bomb testing. (This is the first of many lies, easily disproven. Dr Helen Caldicott MD estimates at least 60 million people have died just from the open air nuclear bomb tests globally, to date.)
Here is a short demo about how this reactor is supposed to work, with no people involved, while generating energy for 30 years - 100 years.
VIDEO:
https://youtu.be/johZ5Ay6RRE
2 min
THE PROMISE OF A TRAVELING WAVE REACTOR IS AS PROBLEM FREE AS THORIUM REACTOR DEBUNKED
Bill Gates claims at this TED conference (in the video below) that the Traveling Wave reactor is problem free, just like liquid thorium reactors and modular reactors.
This is another deceptive lie... Thorium reactors and modular reactors have had lots and lots of problems.
In a wave reactor, according to Terrapower.com, a "mixture of radioactive uranium, sodium, and iron with a thickness of 5 centimeters is put into a 'slab'. A reactor core consists of 100 such 'slabs' operating at 48 W/cm3. Two depleted uranium slabs are supplied every 'cycle' from two outer-most locations and two 'burnt slabs' are discharged in the center region. These slabs are made up of;
U-235 7.30×10 5
U-238 2.40×10 2
Na-23 6.52×10 3
Fe-56 1.68×10 2"
Source: http://terrapower.com/uploads/docs/2011_ANS_Fall_Meeting.pdf
Depleted uranium is also not an inert harmless substance as many in the military and nuclear industry claim.
BILL GATES MAKES FALSE CLAIM THAT THIS REACTOR WILL NOT GENERATE OR EMIT ANY RADIOACTIVE WASTE PRODUCTS
Bill Gates makes the astounding claim that this nuclear power source will generate NO WASTE products. This is a bald faced lie, much like the lies that the pro nuclear apologists make when they assert claims about recycling nuclear fuel 99%, with no discharges into the environment. In reality, quite the opposite actually happens.
The following examples ALL show that recycling of nuclear waste generates HUGE amounts of toxic by products and pollutes huge amounts of air, water and land, plus groundwater.
THERE IS NO WAY TO 'BURN' NUCLEAR WASTE OR ELEMENTS WITHOUT EMITTING ANYTHING
There is no 'burning' of nuclear waste that is possible, without generating even more toxic nuclear waste materials. Saying that 'burning' of nuclear waste will happen and that it will all magically disappear, does not make it happen.
According to Dr. Helen Caldicott MD, this new wave generator will only 'burn' about 6% of the plutonium put into it, leaving 96% of it behind. In case of an accident, this plutonium can combine together and create a nuclear bomb explosion, much larger than anything seen before. Listen to her talk about it in this link.
Saying that nuclear waste material can be 'burned' and that all humans can just get rid of all of their nuclear waste materials in this 'wavy' manner using some magical 'burning' process is nothing more than a pipe dream, a hoax, and a fraud perpetrated on a gullible, naive public and politicians eager to please constituents who are being sold a promise that all of the nuclear waste materials sitting around in their backyards for the next 100,000 years will magically disappear in a 'wave', through 'burning'.
The promise that Bill Gates is making is that U-238 will disappear from all of the nuclear waste stockpiles worldwide, just like magic. Once someone builds these 'magical' nuclear reactors, we can all live in Utopia forever and ever, while picking flowers in clean meadows, free of nuclear contamination, with a benefit of cheap, free and green power. However, there are many problems with this simplistic, mythical, fraudulent representation, provided by an investor of a particular nuclear reactor that he wants to make a profit with.
First of all, remember that Bill Gates is an investor, who has a goal of making a PROFIT. He has tons of money, and every huckster on the block is asking him for money. Hucksters may propose anything and everything that will make him money. Of course, Bill Gates will not fund this on his own. He will not care what the consequences are to those putting up the REAL money to built this project; (US Taxpayers).


NUCLEAR INDUSTRY IS FULL OF DECEPTION, GREED AND CORRUPTION
Investors look at profit and return on principal. For the most part, they do not think about what the negative effects will be for seven future generations, nor do they talk about them. Corporations act primarily to make short term profits, not to do good things for communities and think about what happens to their products or services seven future generations from today...
There are many examples of how corporations prey on communities and lie to citizens in order to make money in the short run. This example of a 'new' style of reactor, may very well be no different from all of those provided in the link below...
BURNING NUCLEAR WASTE HAS BEEN TRIED AND IT FAILED
Bill Gates says his reactors 'burn' waste products from other reactors. This is also at the very least a misrepresentation and quite possibly a lie. Nuclear reactors operate by nuclear reaction and fission, not by 'burning' or combustion, such as a wood stove or a car.
Bottom line, a nuclear fission reaction is nothing more than a nuclear bomb, only the reaction is slowed down and 'controlled', at least most of the time. Trying to harness the power of fissioning elements is a VERY risky business, as numerous and ongoing nuclear accidents have proven time and again.
Bill Gates is using simple sales language, in order to push his profit making idea through the regulatory process and sway public opinion his way, before anyone even knows what they heck they are voting on or agreeing to finance. Empty rhetoric without any facts, without any debate, is great for dictatorships, and top down corporatocracies, but it is not healthy for a sustainable democracy.
Anyone who knows even a little bit about nuclear reactors knows that all nuclear reactors release things like radioactive gases, liquids and solids. Things are always left over after a nuclear reaction. Generally speaking, what is left over is much more toxic and dangerous than what was started with. How is a wave reactor going to violate this basic, fundamental FACT?
THE PROBLEM OF NEUTRON EMBRITTLEMENT
How is TerraPower going to address neutron enbrittlement in reactor materials? All reactors that have fission happening inside of them affect their protective shells or containers by degrading them and making them weaker, plus accelerating their wear, through neutron bombardment, chemical breakdown and/or rusting.
Bottom line, nuclear radiation breaks things down faster... This is why many nuclear power plants are worn out after 30 years; largely due to neutron degradation. Steel becomes weaker, softer and/or more brittle and prone to failure. Rusting accelerates. Concrete breaks down and gets soft.
WHAT HAPPENS TO INEVITABLE NUCLEAR GARBAGE PRODUCED BY THE REACTOR?
What radioactive byproducts will be produced by this traveling wave reactor? We all know what happens during a nuclear reaction... 1,200 decay products are produced, all of them are hazardous, radioactive and deadly dangerous, plus explosive. The left over spent fuel is actually much more dangerous and deadly than the original, fresh, new fuel. How is this wave reactor going to avoid producing any decay products in gas, liquid or solid form and violate all known radioactivity decay laws?
HOW WILL THIS UNMANNED, UNCONTROLLED REACTOR BE SECURED AGAINST TERRORISTS?
How is this reactor going to be secured from terrorists, who will use an easy unmanned source of radioactive materials to build a 'dirty' bomb, or possibly even use the same technique to produce plutonium, which makes a nuclear bomb? Once this 'simple' plutonium creating technique is perfected, why can't terrorists or dictators bent on world conquest use it as well? It has happened before, so it can easily happen again...
FANTASY OF SEALED COMBUSTION NUCLEAR REACTION IS TOTALLY UNREALISTIC
In the simple video presented by Bill Gates, a sealed tube with no outlets or safety mechanisms is shown, with a simple 'burn' of nuclear materials. Again, this video is an outrageous lie, because it is not possible to have a nuclear fission reaction 'wave' in a closed up and sealed 'tube'. This traveling wave tube would explode, if for no other reason, than due to the buildup of radioactive gases, by products and pressures created by them over time. Even in sealed radioactive waste canisters, radioactive hydrogen gas is produced and those containers must be vented, or risk explosion.
Radioactive gas emissions will happen, guaranteed. Radioactive gases will have to be released. The only question is how many dangerous and disease causing radioactive materials will be released over what period of time, into the surrounding environment?
WHAT HAPPENS AFTER THE WAVE TRAVELS THROUGH REACTOR?
What happens after the 'wave' has fully gone through the reactor core? What radioactive byproducts will be left? Which radioactive byproducts will be produced by this 'wave'? What risks are there of things going wrong?
Where is the risk assessment report? Where is the debate about this new and unproven and very risky, plus dangerous plutonium based technology? Plutonium is not just a meaningless word.. It is a word that is attached to a very dangerous toxic fission material...
NO CREDIBLE INDEPENDENT THIRD PARTY EXPERT HAS CONFIRMED THAT THE TRAVELING WAVE THEORY ON PAPER WILL WORK IN ACTUAL PRACTICE
So far, not one journalist, not one newspaper, not one nuclear engineer has taken on this radical idea and pulled it apart or analyzed this pro nuclear propoganda. Why not?
Could it have something to do with the corporate controlled mass media bias FOR nuclear power and against all clean, green alternatives? Could it have something to do with the ownership of the mass media by companies such as GE, which sells all things nuclear, including nuclear reactors?
The way current laws are written, Bill Gates can keep spouting his sales hype and pro nuclear sales pitch, without disclosing any risks until just before the first plant begins construction. How convenient is that?
NO DISCLOSURE, NO TRANSPARENCY, UNTIL AFTER THEY GET UNLIMITED MONEY TO BUILD THIS UNPROVEN REACTOR
Wouldn't you love to sell whatever it is you want to sell and not have to disclose anything until well after the loans and construction process has been started and is well underway? Now it is too late to back out, as everyone is committed. Sorry folks, you cannot change your minds now, it is too LATE to back out now that you know the truth of the matter.
Bill Gates and his pro nuke apologists are asking for BILLIONS of dollars but will not talk about any risks until AFTER THEY GET THE BILLIONS and start building this unproven and untested nuclear wave thing.
Nuclear power is a million times more productive than coal or oil per square foot of fuel, as Bill Gates points out correctly, but then he NEGLECTS to say, that nuclear energy is billions of times more destructive and dangerous, especially when plutonium is involved.


BREEDING REACTORS HAVE A TRACK RECORD OF FAILURE
The breeding reactor concept is well known. U-238 is turned into U-239, then to Neptunium, then to Plutonium 239. During this process, energy is produced. Basically, this is the concept that Bill Gates is proposing with this 'new' style of reactor. A 'breeding' wave moves just ahead of the 'burn' wave, which then consumes the bred material.
But when the nuclear industry says their reactors are safe, just how safe are they? Would this new reactor be just as safe as all of those others that were promised to be safe, and then exploded, melted down or worse, such as those found in the following link?
Bill Gates was on TV recently, explaining to a reporter how 'perfect' the new generation of nuclear power plants will be.. the new plants will have NO PEOPLE inside of them, so accidents can never happen, and that they will be really safe… This is the same pitch being made for Thorium power reactors, and that experiment failed as well...
BILL GATES ADMITS THAT BY 2050, CO2 NEEDS TO BE REDUCED BY 80 PERCENT
A traveling wave reactor and Bill Gates promoting it as a software genius, may remind some about the ancient Greek story of a boy with wax wings, who flew too close to the sun. Bill Gates is selling everyone on ALL things having to be nuclear, and dismissing renewables as not being the solution. He did give a TED talk in which he said that CO2 emissions need to be captured and that the total emissions need to be reduced by 80% by the year 2050. AGRP agrees with Bill on that number and goal.
VIDEO:
https://youtu.be/oUEza10beMY
28 min
BILL GATES SAYS HUMANITY MUST SET GOAL OF ZERO CARBON
Bill Gates: Innovating to zero (TED Talk 2010)
Why are we talking about renewable energy in the context of carbon footprinting at the 7th PCF World Summit? Interestingly Bill Gates has provided an interesting take in a TED Talk a couple of years ago. He explains why efforts in energy efficiency can only go so far and addressing climate change is really about decarbonizing (lowering the carbon footprint of) the energy used for the provision of goods and services. One may not agree with the role of nuclear energy he foresees, but the general points he makes about need to reduce CO2 emissions are quite compelling. A goal of zero carbon and zero nuclear is required, if humanity is to make it.
VIDEO:
http://youtu.be/9s13Tco2bcE
1 min.
Where is the 'perfect', Godlike source of power, that has no people involved? Could it be that Bill Gates is pointing at the sun? When Bill Gates is talking about the ultimate safety of machines completely controlling a reactor and how it would be impossible for it to fail or melt down, it reminds AGRP of others who came before and made similar promises, such as the famous unsinkable ship and the promises made by the nuclear industry up to now.


ALL PRO NUCLEAR APOLOGISTS, INCLUDING BILL GATES, DOWNPLAY, IGNORE AND DENY ANY HARM CAUSED BY NUCLEAR ACCIDENTS
Of course, he is completely IGNORING the fact that the Fukushima nuclear disaster was caused by NATURE, not by man. Even if a perfectly smart computer had been in total control of Fukushima, it would still have had multiple reactors melted down and through.
Actually, having a machine or computer in charge would have made Fukushima MUCH WORSE, than if people had not done some brave and courageous things to try and stop something much, much worse from happening, as they did at Fukushima.
NUCLEAR IS EXPENSIVE, DANGEROUS, TOXIC AND DIRTY
Bottom line, nuclear power of any kind is dangerous, expensive, and toxic to all life on the planet. Nothing will change that; certainly not the traveling wave reactor.
Ness
January 30, 2015
On those coriums: those are wild criticalities and they don't behave the same as fuel rods inside a reactor. When rods in a reactor start behaving this way the control rods go up because the fuel rods inside will be damaged. But nothing stops these coriums from going supercritical. There is plenty of mass. The reason these new build breeders are not a success is because in breeders fuel is allowed to go supercritical on purpose. That reaction is much harder to stop. It seems to me they've become so scared that they don't even use them. Sellafield had to give up and close.
There were plans for a traveling wave reactor but none was build because they fear they cannot stop the reactions at all so 'decommissioning' isn't possible. "Kirk Sorensen of Flibe Energy has criticized the TWR as "a particularly difficult implementation" of the fast breeder reactor, which he characterizes as "already hard to build in the first place." As well, he has emphasized the enormous difficulties and risks associated with the eventual nuclear decommissioning of a TWR reactor"
12 REASONS WHY THE WHOLE NUCLEAR INDUSTRY NEEDS TO BE SHUT DOWN
Even if the traveling wave reactor works perfectly as advertised, the rest of the nuclear industry must be kept alive to keep feeding waste products to it. And what happens in the rest of the industry is enough reason to shut it all down.
ANOTHER PIPE DREAM IN A LONG LINE OF TOXIC, LIFE DESTROYING PIPE DREAMS
In summary, the traveling wave reactor is just another fancy pipe dream, literally. It is time to stop wasting money on expensive boondoggles and devote precious money and resources to things that will benefit seven future generations, and not create more messes for tens of thousands of years into the future, with possible repercussion and dangers that could wipe out all life on the planet.


Share this article by copying and pasting the following title and link into email, Facebook, Twitter or other social media.
WHAT YOU CAN DO; RESEARCH THE DARK SIDE OF THE NUCLEAR MONOPOLY
A Green Road Journal has the largest, most organized, deepest set of articles, videos and pictures exposing the dark side of the nuclear monopoly in the world.

Zero Nuclear Weapons Peace And Justice Project; First Strike Policy, Ban Nuclear Bombs, DU, Down Winders, Acute Radiation Sickness, Nuclear War, Dirty Bombs, Bomb Shelters

Zero Rads In Children And Adults Eco Justice Project - Negative Effects Of Chronic, Cumulative Man Made Radiation Exposure

Zero Rads Extraction Eco Justice Project; Uranium Mining, Enrichment, Nuclear Fuel Chain, Open Air Testing, Fracking

Zero Internal Rads Eco Justice Project; Negative Effects Of Internal Radiation Exposure, Risk Models, Hormesis, Radiophobia, Radiation Monitoring Networks

Making Invisible Heavy Metal Radioactive Poison Visible Eco Justice Project; Ionizing Heavy Metal Poisonous Radiation In Food/Water/Products, Geiger Counters, Dosimeters, Radiation Readings, Test Labs, Conversions, Global Detector Network

Zero Harm To Animals, Insects, Birds And Plants Eco Justice Project; Negative Effects Of Chronic, Cumulative Man Made Heavy Metal Radioactive Poisons In Animals, Insects, Birds And Plants

Zero Nuclear Power Plant Threat Eco Justice Project; Accidents, Recycling Nuclear Fuel, Movie Reviews, Next Generation Nuclear Plants, Terrorists

Radiation Research, Education, Database Eco Justice Project; Individual Radioactive Elements/Isotopes, USA Radiation, Radiation Exposure Prevention, Reversal, Chelation

Eco Justice Art - Artists As Activists; Art, Aging, Poetry, Lyrics And Lawsuits Project; Lawsuits, Aging Nuclear Reactors, Recertification, Music, Lyrics, Poetry

Zero Rad Waste Eco Justice Project; Long Term Storage Of Nuclear Waste, Decommissioning, Ocean Dumping, Incineration, Decontamination, Water Contamination, Dry Cask Storage
WHAT YOU CAN DO; ENDORSE, LEARN, TRANSFORM, DONATE, SHARE, SUPPORT, SPONSOR, CONNECT, COMMENT, AND/OR COLLABORATE
DONATE
Please help AGRP get this news out... thanks for your generous and very appreciated support! What you support grows and expands. What you withhold support from shrinks, shrivels and disappears. Even .50 cents per month is a great help. What is teaching the science of sustainable health worth?

-------------------------------------------------------------------------------------

Donate To A Green Road Project; Help Dr. Goodheart Teach How To Make A Positive Difference For Seven Future Generations Of Children, Animals, Plants And The Planet
TRANSLATE
JOIN THE NETWORK OF OTHER ACTIVISTS; PLUG INTO AGRP
COPYRIGHT
Wayne Dyer - What You Think, You Become (Wayne Dyer Meditation)
"Copyright Disclaimer under Section 107 of the Copyright Act 1976, "ALLOWANCES ARE MADE FOR FAIR USE" for purposes such as criticism, comment, news reporting, teaching, scholarship and research. Fair use is a use permitted by copyright statute, that otherwise might be infringing. Non-profit, educational or personal use tips the balance in favor of fair use." For more info go to:www.lawcornel.edu/uscode.
WHAT YOU CAN DO: SHARE THIS ARTICLE
A Green Road; Teaching the Science of Sustainable Health.


Keep asking - what works for 7 future generations without causing harm?


Support AGR and share this article via by copying and pasting title and url into;