Dr Caldicott MD Explains the Dangers of Tritium - Radioactive Tritium 300% More Deadly Than Cesium; Nuclear Power Industry Is Covering Up And Misleading Public About Dangers - 3 Million Fatalities 'Allowed' In 30 Years - 7,000 Bq/L Radioactive Tritium Allowed In Drinking Water
DR CALDICOTT MD TALKS ABOUT DANGERS OF TRITIUM
Dr Caldicott MD explains the dangers of tritium
VIDEO:
https://youtu.be/FN4JCmhhQXM?t=32m20s
Dr. Caldicott MD also knows the medical implications of Fukushima and the ongoing dumping of radioactive Tritium (H3), also know as radioactive hydrogen, into the ocean, groundwater and air.

At Fukushima; "Massive quantities of radiation escaped into the air and water – three times more noble gases (argon, xenon and krypton) than were released at Chernobyl, together with huge amounts of other volatile and non-volatile radioactive elements, including cesium, tritium, iodine, strontium, silver, plutonium, americium and rubinium. Eventually sea water was – and is still – utilized to cool the molten reactors.
Tritium is radioactive hydrogen H3 and there is no way to separate tritium from contaminated water as it combines with oxygen to form H3O. There is no material that can prevent the escape of tritium except gold, so all reactors continuously emit tritium into the air and cooling water as they operate. It concentrates in aquatic organisms, including algae, seaweed, crustaceans and fish, and also in terrestrial food.
Like all radioactive elements, it is tasteless, odorless and invisible, and will therefore inevitably be ingested in food, including seafood, for many decades. It passes unhindered through the skin if a person is immersed in fog containing tritiated water near a reactor, and also enters the body via inhalation and ingestion. It causes brain tumors, birth deformities and cancers of many organs.
She reports that; "a total of 20 to 40 trillion Becquerels of tritium have now been discharged into the Pacific Ocean –a Becquerel is one disintegration of radiation per second. Tritium is radioactive hydrogen, H3. It combines with oxygen to form tritiated water HTO, which is very dangerous. It emits an electron, or beta particle which, if lodged in the body, is very energetic....Tritium combines within the DNA molecule inducing mutations. In numerous animal experiments tritium causes birth defects, cancers of various organs including brain and ovaries, and it induces testicular atrophy and mental retardation at surprisingly low doses. Tritium is organically taken up in food and is concentrated in fish, vegetables, and other food groups, and it remains radioactive for over 120 years.
Ingestion of contaminated food causes 10 percent (of ingested tritium) to combine in the human body where it can remain for many years continuously irradiating cells."
Remember that according to this medical professional and studies she is referring to, Tritium is TWICE as lethal as radioactive Cesium. Cesium has been found to cause negative health effects at levels as low as 10 Bq/Kg in the human body, with permanent lesions on the heart and other glands and/or organs resulting from 50 Bq/Kg, and death being the next step, at any time.
Canada recommended lowering their limit in drinking water to a maximum of 20 Bq/liter of radioactive tritium. Now you understand why even this dose is probably too high, when compared to radioactive cesium, especially for children, who are much more sensitive to radiation. Fetuses can be up to 2,000 times more sensitive to the same dose of radiation, and that includes radioactive tritium.
RADIOACTIVE TRITIUM IS FOUND IN URINE OF ANYONE LIVING NEAR A NUCLEAR FACILITY; THE ONLY DIFFERENCE IS HOW MUCH; STUDY OF PEOPLE LIVING NEAR REACTOR IN CHINA PROVIDES THE PROOF
Tritium is released in massive quantities into the air, drinking water, and ground around every nuclear facility. In turn, this tritium is absorbed by plants, animals and people living downwind or around a nuclear facility. The only difference is how much is absorbed and retained, depending on factors such as location, nearness to nuclear facility, and more.
Radioactive Material (Tritium) in Urine of People Living Near Nuclear Reactors in China: Importance of Wind Direction, Mountains
Now that we understand this basic fact that everyone on the planet has measurable amounts of radioactive man made tritium inside of their bodies, let's see what the medical and health experts say about radioactive tritium.
Source/credit; Teknorg
RADIOACTIVE TRITIUM CONCENTRATES IN THE FETUS AT 200 PERCENT MORE THAN THE MOTHER'S LEVELS OF CONTAMINATION, KNOWN TO CAUSE BIRTH DEFECTS, CANCERS AND MUTATIONS
RattleShark
February 7, 2016
-Tritium in the form of tritiated water (HTO) is known to be much more radiotoxic than tritiated hydrogen gas, anywhere from 12,000 to 22,000 times.20 Tritium is clinically known to cause cancers, mutations and birth defects.21 According to the U.S. National Academies of Science, in its 7th Biological Effects of Ionizing Radiation (BEIR) report, any dose of radiation, no matter how low, still carries a risk.22 Moreover, BEIR 7 discloses that women, pregnant women, their fetuses and children are more susceptible to the deleterious consequences of radiation exposures. A fetus can collect tritium at twice the concentration ratio in its tissues as compared to then mother, meaning that per mass, the fetus can become twice as contaminated as the adult female at a particularly vulnerable time of development.23
https://t.co/HRyXCXiUGA
TRITIUM RADIOACTIVE HEALTH ALERT
The pro nuclear mass media, nuclear industry and the governments supportive of nuclear power all claim that radioactive tritium is harmless and has no effect on health. Why is it that many studies and medical professionals are saying just the opposite? Some pro nuclear experts even go so far as to claim that Tritium does not emit carbon dioxide, but that is like saying water does not emit carbon dioxide, which is a patently absurd statement.
VIDEO:


SOME SO CALLED EXPERTS CLAIM THAT TRITIUM IS HARMLESS BECAUSE IT IS 'NATURAL', THUS USING HORMESIS THEORY FOR THIS RADIOACTIVE POISON
The Nuclear Scare Scam - Galen Winsor
35; Tritium is hydrogen 3. If it gets out in the biosphere, what happens? Nothing, it will get diluted. We have a natural inventory of tritium in the atmosphere. Then what of these people that pretend that tritium does you in? It is only of concern if it is sufficient concentration. There is no meaningful concentration, not even the oysters below Calvert Cliffs. Why then are we so concerned about rules around this? All inventory at nuclear facilities is a valuable resource, not a high level waste product.
Many nuclear experts say that Tritium is 'natural', so by logical extension, it cannot have a negative effect. What they don't mention is that the amount of tritium naturally present in the environment was impossible to detect before the atomic age, because it was so low an amount. Now radioactive tritium levels have soared by so much in the environment, that these astronomical and radical increases are being used by scientists to track the movement of ocean currents and more.
Is man made radioactive tritium really that harmless and innocuous, when humans and the environment for all practical intents and purposes, have never had to deal with this man made synthetic radioactive element at such high levels before? Let's explore this subject and see what the actual scientific and medical research shows.
MUCH WAS KNOWN ABOUT TRITIUM BACK IN THE 1950's BUT HAS SINCE BEEN FORGOTTEN OR BURIED
Jebus JULY 17, 2017 Yes and now one has to pay, in many ways…
The oxidation of molecular tritium in mammals – September 1953
Back when science was not so abstract
Bacteria isolated from the intestinal contents from rats have been found to fix significant quantities of molecular tritium. The possibility that bacteria were the principal agent in the fixation of tritum within the animal body was investigated. Oxidation of tritium by tissue homogenates revealed that oxidation occurred with homogenates prepared from the spleen and intestines. Fixation by the intestinal homogenates was undoubtedly due to bacterial action. A decrease in the bacterial flora of intact animals by either evisceration or treatment with antibiotics reduced the total quantity of tritium oxidized. These results indicate that the bacterial content may be the principal agent in the oxidation of tritium within the animal body.
Any more and it costs monetarily.
People are dying right and left to save a bit o money…"
TRITIUM CANNOT BE MEASURED OR DETECTED WITH A GEIGER COUNTER
One of the worst dangers of tritium is that it cannot be measured with a normal Geiger Counter, which makes it that much more hazardous. Lethal levels of tritium are totally invisible and undetectable for all practical intents and purposes. You may be swimming in a lethal amount of radioactive tritium in your local lake, river or ocean. You may drink a lethal level of tritium in your drinking water. You may get out in a rain storm and be exposed to lethal levels of tritium in the rain, without even knowing it.

You may die as a result of tritium exposure and the cancers or other diseases that it causes, but you would never be able to detect this radioactive tritium, either visually, via taste, smell or feeling. No doctor could do a test to figure out what you died of, and no one with a Geiger counter would detect anything in your body, or in any of these water sources, even with a radiation detector held right up against the water.
Tritium emits beta particles but the energy from this man made radioactive element is so weak, that it is blocked by the mica window in front of the detector and/or it is blocked by the water it is part of. That 'weak' beta radiation is still harmful at close range when ingested into the body however, just like all alpha radiation particle emitting radioactive elements are as well, such as plutonium for example.
Radioactive steam or water could easily be emitted via an emergency release or a leaking pipe from a nuclear plant, as documented has been happening on many occassions in the many news links provided below. People downwind who are measuring this steam or leaking water would detect no radiation, despite it having astronomically high levels of toxic and deadly radioactive tritium in it. A special and very expensive process and radiation detector, called a scintillator is needed to even detect radioactive tritium and radioactive carbon.
"The energy released by Tritium is around 6 KeV, making it so weak, that it cannot even penetrate the layer of dead skin cells on the outer layer of skin. However, tritium containing water is odorless, tasteless, and colorless. It is so common, it is "very common" for the average human body to contain radioactive tritium. Tritium can be potentially hazardous because it emits ionizing radiation, especially if ingested internally. "Geiger counters and ionization chambers cannot detect tritium."
http://hps.org/documents/tritium_fact_sheet.pdf
OFFICIAL GOVERNMENT WEBSITE SHOWS THAT MAN MADE POISON IS ALLOWED IN DRINKING WATER AT A DEADLY RATE FOR CHILDREN AND ADULTS
Health Canada Chart Showing 7,000 Bq/L Allowed In Drinking Water
https://flyingcuttlefish.files.wordpress.com/2016/01/vitaminwater.jpg
Tritium is 300 percent more deadly than radioactive cesium. Cesium is only allowed in drinking water at a level of 10 Bq/Liter. Why is tritium, something much deadlier than cesium, allowed at a level of 7,000 Bq/liter?
HEALTH EXPERT ADVISES NO MORE THAN 20 BQ/L AS MAXIMUM AMOUNT ALLOWED
Journal Entry by admin on January 31, 2010

There are ways to remove radioactive Tritium from water, but the nuclear industry likes to save money and have people pay with their lives instead. Lives are cheaper than cleaning up the toxic and deadly poison mess that they make.
How To Remove Radioactive Tritium From Water; Four Methods And Technologies Illustrated
http://agreenroad.blogspot.com/2015/07/how-to-remove-radioactive-tritium-from.html
Credit/source
Occupy The NRC
TRITIUM CAN BE COUNTED VIA LIQUID SCINTILLATION COUNTING
"In liquid scintillation counting, the material containing radioisotopes is dissolved in an organic solvent containing an aromatic solute (the scintillant). When radioactive decay takes place, the energy of a beta particle is transferred by collision to an electron in the shell of the scintillant, exciting that electron. The electron then returns to its ground state, releasing a photon. The energy transfer can be from beta particle to solvent to scintillant, or directly to the scintillant, and usually there are multiple collisions per b particle. The number of photons emitted following each atomic disintegration is proportional to the energy of the released beta particle.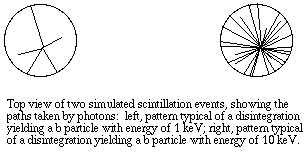 Now here is how the detection system works. The vial is lowered into a dark chamber with photoelectric detectors on each side. Each "flash" received by the detectors corresponds to one atomic disintegration. The detectors are connected, via photomultiplier tubes, to a microprocessor unit that records not only each event, but also the number of photons detected during each event (brightness of the flash). At brief intervals, such as 1/100 second, the instrument calculates the number of flashes per unit time, displaying them as counts per minute, or CPM."
"In the oxide form, tritium can generally not be detected by commonly used survey instruments. In the environment, tritium can be taken up by all hydrogen-containing molecules, distributing widely on a global scale. Tritium can be incorporated into humans through respiration, ingestion, and diffusion through skin. Its harmful effects are observed only when it is incorporated into the body."
http://www.ncbi.nlm.nih.gov/pubmed/8244708
A LIQUID SCINTILLATION COUNTER IS REQUIRED TO MEASURE RADIOACTIVE TRITIUM
Via AFTERSHOCK
December 17, 2013
"
they do have a test to determine the presence and quantity of Tritium within water. Unfortunately, it requires "liquid scintillation counting of the tritium beta particle activity…", which doubtless involves the use of advanced electronic signal processing circuitry
…
TRITIUM CANNOT BE FILTERED OUT OF WATER OR RAIN WITH METHODS AVERAGE HOMEOWNER HAS ACCESS TO
AP: 'Tritium rain' to result from disposal of Fukushima contaminated water? Expert: You may be interested to know radioactive rainfall occurs around nuclear plants during normal operations (VIDEO)
Because every nuclear plant, reprocessing facility and special tritium manufacturing facility is 'allowed' to legally release a certain amount of tritium into the air and water, it is highly likely that if you are downwind or downstream of one of these facilities, that you have been exposed to higher than average amounts of tritium either in rain, breathing it in the air, drinking it in your drinking water, or via milk, etc. Every nuclear facility releases radioactive tritium just as a normal every day sort of thing, both from the nuclear reactor, as well as from spent fuel pools. Tritium gas is released via the vent stack, and tritium water is released in many other ways, as proven by the many news links in this article.
Radioactive hydrogen, H3, is otherwise known as tritium. Tritium cannot be filtered out of water, but it also cannot be detected either in rain or in drinking water with a Geiger counter. Radioactive tritium mimics water, and is absorbed by the body, just like water is. But normal drinking water is not normally radioactive.
Radioactive man made elements also bio concentrate up the food chain, and tritium is no exception to this. All nuclear reactors release large amounts of tritium into the water and air just during normal operation. Leaking pipes in nuclear reactor also release much more concentrated amounts of tritium contaminated water into the environment, as you will discover from the news release summaries and links below.
NUMBER OF CANCERS AND DEATHS PER YEAR FROM TRITIUM, IN USA, TRITIUM THREE TIMES MORE TOXIC THAN CESIUM
Radioactive Tritium is a carcinogen, mutagen, teratogen and developmental toxin that is two to three times more toxic than cesium. Tritium is absorbed by breathing contaminated air or drinking water, where it becomes incorporated into DNA and disrupts the genetic code of men's and women's reproductive cells.
CURRENT STANDARD ALLOWS 350 FATAL CANCERS PER 1 MILLION PEOPLE, PER YEAR
The current Guideline and Drinking Water Quality Standard for tritium is 7,000 Bq/Liter, which is based on the permissible ICRP dose limit of 1 mSv/year (lowered to 0.1 mSv in water). This "standard" corresponds to a risk of 350 excess fatal cancers of healthy adult males per ONE million people from just ONE year's consumption of drinking water. Now figure out what this means over a lifetime of 70 years. (They ignore the negative health effect of tritium on kids, eggs, embryos and fetuses, because that is 20 - 2,000 worse.)
OVER 30 YEARS, THIS SAFETY 'STANDARD', ALLOWS 3 MILLION FATALITIES DUE TO CANCER
There are 300 million people living in the US, so this legally allowed 'standard' would legally allow 105,000 DEATHS PER YEAR. Multiply this 105K deaths x 30 years = 3,150,000 murdered people by the peaceful use of the atom with just 'normal' tritium emissions, and ignoring all of the OTHER stuff that comes out of these nuclear plants.
Multiply this times a global population of BILLIONS of people over 30 years, and you can see how nuclear power plants become weapons of mass destruction, just through normal operation, without even any accidents or meltdowns.
We, the people on earth, can never tolerate a 'safe' radiation limit for man made radiation. We have to put pressure on our governments to replace the obsolete "reference man" by the more sensitive "reference embryo".
An average nuclear power plant uses 3,000,000 gallons per/min X 1440 min/day = 4,320,000,000 gallons/day. Using water treatment terminology, this would be 4.32/BGD, and all of that water is heated.
TRITIUM IS DEADLY FOR ANIMALS TOO
Horse
November 5, 2014
"Tritium is not considered very harmful to humans unless they drink tritiated water. The effects on aquatic species are profound. Many studies were done in the seventies to see how much could be released without killing all the fish in the ultimate heatsink.
Half way thru the report see the studies done on AQUATIC SPECIES - "tritium produced measureable, dose dependent, and irreversible suppression of immune capacity in affected fish." "It appeared that there was no threshold or significant dose-rate effect for either beta or gamma rays on germ cell survival, and that tritium beta rays were more effective than cesium-137 gamma rays in germ cell killing."
"Barnacle embryos were reared in millipore cytology monitors containing approximate tritiated water (HTO) concentrations of background plus 0, 10-5, 10-4, 10-3, 10-2, 10-1, and 100 uCi/mL. After 32 days the cultures were fixed and the numbers of larvae counted. A "molting index," the percentage of larvae that molted at least once, was used to evaluate the effects of HTO on normal development. Effects were observed at concentrations as low as 7×10-6 uCi/mL, and were exponentially related to HTO concentration."
RADIOACTIVE TRITIUM IS AN INGREDIENT NEEDED FOR NUCLEAR BOMB INDUSTRY
Via Nick
December 17, 2013
…"
Tritium is a heavy isotope of hydrogen and a key component of nuclear weapons
, but it decays radioactively at the rate of 5.5 percent each year and must be replenished continually.
This is accomplished by recycling tritium from existing warheads and by extracting tritium from target rods irradiated in nuclear reactors
…"
The nuclear weapons industry REQUIRES that tritium be created in nuclear power reactors and reprocessing facilities, in order to create nuclear bombs. Since tritium decays away, it must be replenished on a fairly consistent basis, which requires that nuclear reactors and other facilities keep producing it forever and ever, even if people no longer want the risk and hazard of a nuclear plant or other facility.

The nuclear industry will require sacrifices of animals and people to keep making heavy metal poisons and radioactive elements such as tritium, so that the nuclear obsessed boys in the military can keep playing with their radioactive toys.


RADIOACTIVE TRITIUM CAUSES CANCER AND CHANGES DNA
March 3, 2010 "…as an isotope of hydrogen (the cell's most ubiquitous element), tritium can be incorporated into essentially all portions of the living machinery; and it is not innocuous." R. Lowry Dobson MD, PhD quoted from The Toxicity of Tritium 1979.
Tritium Levels Soaring At Fukushima - 2 to 3 Times More Lethal Than Cesium - Indicates Active Fission; via @AGreenRoad
Journal Entry by admin on July 16, 2010
The risks of tritium, a radioactive form of hydrogen, could be underestimated because it could bind to DNA, recognizes the French Nuclear Safety Authority (ASN) in a recent white paper. In light of this possibility, the ASN wants new investigation into hereditary effects from tritium exposure..
July 12, 2009
A May 21, 2009 report by a
Canadian government agency task force has recommended stricter regulation on the release of tritium from nuclear reactors just as a slew of tritium leaks have been reported at U.S. reactors.
Tritium, (a radioactive form of hydrogen), is clinically proven to cause cancer....
February 22, 2010
March 3, 2010
DR ROSALIE BERTELL PHD TALKS ABOUT NEGATIVE HEALTH EFFECTS OF TRITIUM
July 20, 2009
Rosalie Bertell, Ph.D., GNSH
ALL NUCLEAR REACTORS EMIT RADIOACTIVE TRITIUM
Because fission generates huge quantities of excess neutrons, the generation of huge amounts of toxic and radioactive tritium cannot be avoided. Every nuclear reactor emits huge quantities of neutron 'rays' which change whatever they come in contact with into something radioactive. Water is used to prevent gamma, beta and alpha radiation from harming nuclear workers and the public around all nuclear reactors.
Perry Nuclear Plant accidentally released radioactive tritium, and it has been found in one sample area next to the building.
TEPCO announced recently that it will discharge 33-50 times the legal limit of Tritium contamination into the Pacific Ocean..
NRC IS IGNORING TRITIUM LEAKS AND PUBLIC HEALTH HAZARD, CANCER RISKS
NUCLEAR POWER INDUSTRY IS MISLEADING PUBLIC AND LAWMAKERS ABOUT DANGERS OF TRITIUM, LEAKS AND MORE