13 Independence Day Facts Almost No One Knows; Happy 4th Of July! What Is It That Americans Are Celebrating? Most American's Don't Know The REAL Reasons, Nor Origins Of The Constitution, Independence Day, Nor Basic Corporation US History - What Are We Celebrating?
MANY AMERICANS DON'T EVEN KNOW BASIC FACTS OF HISTORY
Very few Americans actually know why or what the US celebrates on the 4th of July
Ask yourself and the people around you;
What is the reason for 4th of July celebrations?
What is Independence Day?
Who wrote the Pledge of Allegiance and why?
Who were some of the 'founders' and what did they all share in common?
What date was the Declaration of Independence signed?
Where did the Constitution originally come from?
What were the views of the 'founders' around corporations and despotic kings of those days?

What was the view of the founders around separation of church and state?
Most people will not know the answers to these basic facts. If someone does give an answer, it will probably be the answer taught in schools and colleges via history class, but odds are great that these 'facts' will be totally wrong as well. So even the tiny minority of Americans who know the school or college taught history answers to the above questions will also be misinformed.. This article seeks to answer the above and other questions around history, but in a neutral context, not biased or made color blind by a rich white minority slave owning racist point of view.
WHAT IS THE FOURTH OF JULY CELEBRATION ABOUT? WHO IS CELEBRATING IT?
Millions of Americans Have Nothing to Celebrate on the Fourth of July
On Independence Day, the stirring words of Thomas Jefferson's Declaration of Independence, promising "Life, Liberty and the pursuit of Happiness," set the tone. Buried a bit further down, however, is another passage that is somewhat less well-known:
"…the inhabitants of our frontiers, the merciless Indian Savages, whose known rule of warfare, is an undistinguished destruction of all ages, sexes and conditions."
That line, and America's subsequent history with Native Americans, goes a long way toward explaining why the holiday largely does not resonate with the United States' roughly 5.2 million indigenous peoples.
"Any holiday that would refer to my people in such a repugnant, racist manner is certainly not worth celebrating," Simon Moya-Smith, a culture editor at Indian Country Today told Mic. "[July Fourth] is a day we celebrate our resiliency, our culture, our languages, our children and we mourn the millions — literally millions — of indigenous people who have died as a consequence of American imperialism."
For him, Independence Day is a celebration of genocide. A number of tribes and nations contacted for this story expressed various levels of discomfort with the holiday.
WHY WAS THE PLEDGE OF ALLEGIANCE WRITTEN, AND WHO WROTE IT?
TRUMP'S PHONY PATRIOTISM CLASHES WITH THE RADICAL ROOTS OF AMERICA THE BEAUTIFUL AND THE PLEDGE OF ALLEGIANCE
JULY 5, 2017
A GREEN ROAD DAILY NEWS
Bellamy, a Baptist minister who lived from 1855 to 1931, wrote the Pledge of Allegiance in 1892 to express his outrage at the nation's widening economic divide. He had been ousted from his Boston church for his sermons depicting Jesus as a socialist, and for his work among the poor in the Boston slums.
It was the Gilded Age, an era marked by major political, economic and social conflicts. Progressive reformers were outraged by the widening gap between rich and poor, and the behavior of corporate robber barons who were exploiting workers, gouging consumers, and corrupting politics with their money. Workers were organizing unions. Farmers were joining forces in the so-called Populist movement to rein in the power of banks, railroads and utility companies. Reformers fought for child labor laws, against slum housing and in favor of women's suffrage. Socialists and other leftist radicals were gaining new converts.
Much more at;
Trump's Phony Patriotism Clashes With the Radical Roots of America the Beautiful and the Pledge of Allegiance | Alternet
THIRTEEN FACTS ABOUT INDEPENDENCE DAY THAT CONSERVATIVE REPUBLICANS HOPE YOU NEVER SEE OR LEARN ABOUT
INDEPENDENCE DAY SPECIAL: THIRTEEN FACTS ABOUT AMERICA CONSERVATIVES WOULD LIKE YOU TO FORGET
JULY 3, 2017
A GREEN ROAD DAILY NEWS
1. Conservatives opposed the Founding Fathers, the American Revolution and a lot of other righteous stuff as well.
By definition a conservative is one who wishes to preserve and/or restore traditional values and institutions, i.e. to "conserve" the established order. No surprise then that 18th century American conservatives wanted no part of breaking away from the British Empire and the comforting bonds of monarchical government. Those anti-revolutionary conservatives were called Tories, the name still used for the conservative party in England. The Founding Fathers? As radically left-wing as they came in the 1770s. The Boston Tea Party? The "Occupy Wall Street" of its day.
Some of the other "traditional" values supported by conservatives over the course of American history have included slavery (remember that the Republican Party was on the liberal fringe in 1860), religious persecution, the subjugation of women and minorities, obstacles to immigration, voter suppression, prohibition and segregation. Conservatives started off on the wrong side of American history, and that's where they've been ever since.
2. The United States is not a Christian nation, and the Bible is not the cornerstone of our law.
Don't take my word for it. Let these Founding Fathers speak for themselves:
John Adams: "The government of the United States of America is not in any sense founded on the Christian religion." (Treaty of Tripoli, 1797)
Thomas Jefferson: "Christianity neither is, nor ever was, a part of the common law." (Letter to Dr. Thomas Cooper, February 10, 1814)
James Madison: "The civil government … functions with complete success … by the total separation of the Church from the State." (Writings, 8:432, 1819)
George Washington: "If I could conceive that the general government might ever be so administered as to render the liberty of conscience insecure, I beg you will be persuaded, that no one would be more zealous than myself to establish effectual barriers against the horrors of spiritual tyranny, and every species of religious persecution." (Letter to the United Baptist Chamber of Virginia, May 1789)
You can find a multitude of similar quotes from these men and most others who signed the Declaration of Independence and/or formulated the United States Constitution. These are hardly the words of men who believed that America should be a Christian nation governed by the Bible, as a disturbing fundamentalist trend today would have it be.
3. Long before the United States even existed, it was drawing "problem" immigrants.
After being pretty much run out of England as anti-government radicals, the religious dissidents we know today as the Pilgrims settled in Leiden, Holland, where they set about making themselves that nation's immigrant problem. Sticking to themselves and refusing to "blend in" with their new homeland, the Pilgrims grew alarmed by the unpalatable ideas to which their children were being exposed, such as religious tolerance (good for the Pilgrims, bad for everyone else) and national service (like all Dutch residents, the Pilgrims were eligible for the draft). When their children began picking up the Dutch language, the Pilgrims had had enough. By then the Dutch had, too. Next stop: Plymouth Rock.
Much More at DAILY KOS
Independence Day Special: Thirteen Facts About America Conservatives Would Like You to Forget
In other words, the fundamentalist evangelicals back in the days of colonies were so extreme that they got kicked out of one country after another.. Now the US is 'home' to the modern day Pilgrims, and they are in 'charge' thanks to Trump. Now the US gets to experience what the UK and Dutch experienced, before they tossed them out of the country.
WHAT SCHOOLS AND COLLEGES DON'T TEACH YOU ABOUT AMERICAN HISTORY AND CORPORATIONS
This Independence Day - 2016
"Most of the reasons for the American Revolution were financial, with the heavy tax burden levied by King George of England likely at the top of the list. A close second was the gouging done by European corporations of the day, Notably the Dutch East India Trading Company and the Hudson's Bay Company. Their shenanigans were not so different from their modern progeny. Strikingly, along with building a democracy of sorts, our forefathers were attempting to limit corporate influence in this new nation as well.
[From ReclaimingDemocracy.org] After fighting a revolution to end this exploitation, our country's founders retained a healthy fear of corporate power and wisely limited corporations exclusively to a business role. Corporations were forbidden from attempting to influence elections, public policy, and other realms of civic society.
Initially, the privilege of incorporation was granted selectively to enable activities that benefited the public, such as construction of roads or canals. Enabling shareholders to profit was seen as a means to that end. The states also imposed conditions (some of which remain on the books, though unused) like these*:
Corporate charters (licenses to exist) were granted for a limited time and could be revoked promptly for violating laws.
Corporations could engage only in activities necessary to fulfill their chartered purpose.
Corporations could not own stock in other corporations nor own any property that was not essential to fulfilling their chartered purpose.
Corporations were often terminated if they exceeded their authority or caused public harm.
Owners and managers were responsible for criminal acts committed on the job.
Corporations could not make any political or charitable contributions nor spend money to influence law-making.
http://readersupportednews.org/pm-section/78-78/37782-this-independence-day-2016
Does that sound anything like what America is all about these days? Does Independence from the oppressive power and control of corporations have any merit anymore, or is everyone perfectly ok with them controlling and taking over the US government?
THEN AS NOW; ECONOMIC INEQUALITY WAS THE RULE, NOT THE EXCEPTION
Back in the days of kings, a monopolistic church and knights, there was a great inequality between serfs, church leaders and kings. The kings, church officials and knights owned all of the land plus buildings. The serfs worked and/or rented the land, and all of the money plus crops went to the upper 1 percent making up the church leaders, the king and knights, just as it happens today, only there are many more sources of income. The 1 percent now are made up of corporate leaders, religious leaders and the knights are in the banks, stock brokerages, finance companies and real estate firms plus arbitrage.
PlowboyGrownUp
July 3, 2016
"Economic inequality soars in US:
Economic inequality leapt ahead in 2015 in the United States, with the average incomes of the top 1 percent rising twice as fast as the incomes of the remaining 99 percent of households"
http://www.wsws.org/en/articles/2016/07/02/rich-j02.html
ARE WE CELEBRATING THE 1% WHO OWN AND CONTROL EVERYTHING?
"This is a fundamental question of democracy," said the Sentencing Project's executive director Marc Mauer. "These policies go back to the founding of this country. [The U.S.] was founded as a great experiment in democracy, but it was very limited. Wealthy, white male landowners granted themselves the right to vote, but women, poor people, Indians, African Americans and people with felony convictions could not vote."
FIVE PERCENT OF PEOPLE THINK, TEN PERCENT THINK THAT THEY THINK, AND THE OTHER 85% WOULD RATHER DIE THAN THINK OR PROBLEM SOLVE VIA ROOT CAUSE ANALYSIS
This article will discuss the many myths and fables around the 4th of July, and then end with some positive, uplifting reasons to celebrate! Stick it through to the end, but keep an open mind and be willing to go through some paradigm shifting on the way there... :)






"Five percent of the people think; ten percent of the people think they think; and the other eighty five percent would rather die than think." Thomas Edison
"It is not light that is needed, but fire; it is not the gentle shower, but thunder. We need the storm, the whirlwind, and the earthquake. The feeling of the nation must be quickened; the conscience of the nation must be roused; the propriety of the nation must be startled; the hypocrisy of the nation must be exposed; and its crimes against God and man must be proclaimed and denounced."
WHAT IS AMERICA CELEBRATING AND BEING THE BEST AT? THE US IS NUMBER ONE IN NUMBER OF PEOPLE IN PRISON PER CAPITA, AND IT IS NUMBER ONE AROUND THE AMOUNT SPENT ON THE MILITARY INDUSTRIAL COMPLEX
US Military Budget And Top Secret "Black Budgets" Keep Growing, Money Cannot Be Accounted For, 6.5 TRILLION Dollars Missing From Secret CIA, NSA, NGIA
http://agreenroad.blogspot.com/2013/10/secret-black-budget-keeps-growing-no.html
ARE WE CELEBRATING THE MYTH THAT AMERICA IS # 1 IN ALL WAYS?
On the 4th of July... what is it that we are celebrating anyway? Could the July 4th celebration be more about a myth than reality? Is the celebration about how the US is number 1 in all categories that can be measured?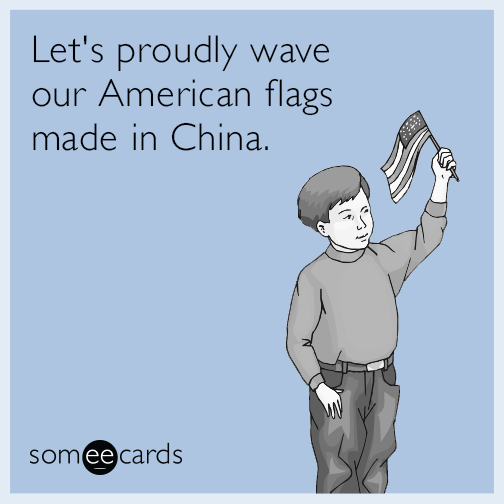 How about waving a flag made in Communist China, or blowing off some fireworks made over there, by sweat shop workers who until nets were put up to prevent it, committed suicide by jumping off the factory roofs. Why did we send off millions of good paying union jobs to a despotic Communist regime with no human rights, no freedoms, no democracy, again? Oh yea, those 'free trade' agreements, where politicians bought off by corporations promised everyone more jobs, more prosperity, more freedom... but then delivered the exact opposite.
WHAT IF YOU FOUND OUT THAT FIREWORKS YOU SET OFF, DID HARM TO PEOPLE, ENVIRONMENT AND PETS AROUND YOU?
Paula Densnow
If you're going to set off... fireworks, ... here are some things to consider:
1. We have a lot of war veterans. I just saw one friend of mine post how he hates July 4th because the fireworks rattle him, and give him flashbacks. This is no way to contribute to our veterans' PTSD.
2. It scares pets. The 4th is a nightmare for shelter workers, and many pet guardians lose their dogs and cats to panic and escape. The shelters are bursting because people actually give their pets up over the 4th. Some dogs have to hide in the bathtub shivering overnight because of fireworks.
3. It scares wildlife. In some cases, it can cause their death.
4. It poisons the environment.
Also, even if it is legal where you live, please consider the above. Is all that worth spending your money on something you blow up in a few seconds that could injure you or the people around you?"
ARE WE CELEBRATING THE MYTH OF INDEPENDENCE? THE OFFICIAL NARRATIVE THAT IS TAUGHT IN SCHOOLS AND COLLEGES IS ACTUALLY MISINFORMATION
Some people believe that July 4th is when we became 'independent' of the British. here is Wikipedia; "Independence Day, commonly known as the Fourth of July, is a federal holiday in the United States of America commemorating the adoption of the Declaration of Independence on July 4, 1776, declaring independence from the Kingdom of Great Britain (now officially known as the United Kingdom (UK)."
http://en.wikipedia.org/wiki/Independence_Day_(United_States)
DECLARATION OF INDEPENDENCE FULL TEXT, CONSTITUTION AND BILL OF RIGHTS
We celebrate American Independence Day on the Fourth of July every year. We think of July 4, 1776, as a day that represents the Declaration of Independence and the birth of the United States of America as an independent nation.
Declaration of Independence Full Text
Constitution And Bill of Rights In The United States; TPP Agreement Violates Constitution And Bill Of Rights
http://www.agreenroadjournal.com/2015/11/constitution-and-bill-of-rights-in.html
Only a few people that one may meet on an average street will know the above basic 'fact' about US history. But even far fewer know the true and hidden history that is below this pro 1 percent nationalistic, pro corporate, pro despotic leader propaganda campaign.
That sounds kind of sweet and innocent, wouldn't you agree? Actually, the Declaration is a popular myth, because in reality, this document was really a declaration of war against the British KING, on the one hand because he would not allow freedom of religion.
The King would also tax the colonies too much through his 'state' corporations or directly (remember the rebellion of dumping British tea into the harbor, due to high taxes?)
The British King would also not allow the settlers to steal as much land as they wanted from the Indians, who already occupied the entire continent that made up what is now the United States for tens of thousands of years or longer. This little known secret is part of the dark underbelly of US history. It is taboo to talk about any of this or write about it in the mass media or schools, so you are now going down a rabbit hole that few dare to venture down into.
Trump Supporters Triggered By Declaration Of Independence
SOME TRUMP SUPPORTERS THOUGHT NPR TWEETED 'PROPAGANDA.' IT WAS THE DECLARATION OF INDEPENDENCE.
The Declaration of Independence is, of course, one of the country's most important documents, adopted at the Second Continental Congress on July 4, 1776. The text and purpose of the Declaration would likely be recognizable to those who have applied for U.S. citizenship, since questions about the document appear on the naturalization test. U.S. Citizenship and Immigration Services has an extensive list of study materials and other Declaration-related resources for prospective citizens.
NPR's "Morning Edition" has had a nearly three-decade-long tradition of broadcasting a reading of the Declaration of Independence on July 4 each year. More than two dozen NPR journalists participated in this year's reading, including "Morning Edition" co-host Steve Inskeep, "All Things Considered" hosts Audie Cornish and NPR national political correspondent Mara Liasson.
IS THE US CELEBRATING GENOCIDE AND SLAVERY?
Wouldn't you agree that it is not ok to celebrate genocide, stealing property and owning slaves?
In the Untold History; "And I think one of the most important of these grievances was that the King of England had opposed conditions for new appropriation of land. This is the seventh of 28 different reasons for declaring independence. And what that meant was that these settlers from Europe wanted to appropriate lands belonging to the Indians, belonging to different Native American peoples--the Haudenosaunee people, a confederation in New York; the Cherokee people of what's now Tennessee and the Carolinas; the Potawatomi, from my part of the country, in Michigan and Ohio. The settlers wanted these lands. But Great Britain, as a result of the Seven Years' War, had said that these lands were off-limits to settlement. This was part of the Treaty of Paris of 1763."
http://therealnews.com/t2/index.php?option=com_content&task=view&id=31&Itemid=74&jumival=12076
WHERE DID THE US CONSTITUTION REALLY COME FROM? THIS TRUE HISTORICAL FACT IS NOT TAUGHT IN ANY SCHOOL OR COLLEGE
Schools/Colleges Teach Misinformation; Where Did The US Constitution REALLY Come From?
Video;
https://www.youtube.com/watch?v=MK7OmIDmiB8
5 min.
THERE WERE NO 'FOUNDERS' BECAUSE THIS COUNTRY WAS ALREADY OWNED AND INHABITED BY UNTOLD MILLIONS OF CITIZENS, WHO HAD BEEN HERE FOR TENS OF THOUSANDS OF YEARS; ILLEGAL IMMIGRANTS CAME IN AND STOLE IT FROM THEM
After the British were defeated, our forefathers killed millions of the Native Americans inhabitants who had lived on this continent for 40,000 years, and then stole their land.
19 To 100 Million Native American' Indians Exterminated By Illegal Immigrant 'Settlers'
The war against the King was at least as much or even more about stealing land and making HUGE profits from the natural resources on this continent, than it was about freedom. Is it any wonder that the US now has a huge issue with corporations that care nothing about community, and are all about short term profits at any cost? Hmmm, this issue seems to have a root going all the way back into this Declaration of war, wouldn't you agree?
American Indians Have Inhabited The US Continent For 200,000 Years In A Sustainable Fashion, Why Can't Our Modern 'Civilization' Do That?
THE AMERICAN CONTINENT WAS RULED BY A CIVILIZED SUSTAINABLE SOCIETY CALLED THE IROQUOI CONFEDERACY, RULED BY THE GREAT LAW OF PEACE, A CONSTITUTION AND MANY INDIAN NATIONS
This artificially imposed 'independence day' was artificially created by force and via a non stop war that continues even today, against millions of people that lived in a nation that was already existing and had a stable democratic form of democratic government. Before illegal white immigrants arrived, the continent already had an
The Iroquoi Confederacy
, that was ruled by a Great Law Of Peace, and a
Constitution
. These Indian 'nations' definitely claimed ownership inside of that legal document, so the white illegal immigrants definitely occupied and took away something that did not belong to them, by FORCE and via contrived laws that basically extinguished sovereign Indian rights, society, traditions, laws, and ways of living.
CONSTITUTION OF THE INDIAN NATIONS, WAS FORMED OUT OF THE IROQUOI CONFEDERACY, GOING BACK WAY FURTHER IN HISTORY, BUT INDIANS WERE NOT GIVEN ANY CREDIT FOR IT; THIS TOO WAS STOLEN FROM THEM AND CREDIT WAS GIVEN TO THE 'FOUNDING FATHERS'; RICH, WHITE, LAND OWNING, SLAVE OWNING, RACISTS
The Constitution of the Iroquois Nations: The Great Binding Law, GAYANASHAGOWA"
"The soil of the earth from one end of the land to the
other is the property of the people who inhabit it. By
birthright the Ongwehonweh (Original beings) are the owners
of the soil which they own and occupy and none other may hold
it. The same law has been held from the oldest times.
The Great Creator has made us of the one blood and of the
same soil he made us and as only different tongues constitute
different nations he established different hunting grounds and
territories and made boundary lines between them."
FIVE PRINCIPLES OF PATRIOTISM; WHAT IS IT AND HOW DO YOU DEFINE IT?
Happy 4th July, 5 Principles of True Patriotism, By Robert Reich
http://www.agreenroadjournal.com/2016/07/happy-4th-july-5-principles-of-true.html
THE CONCEPT AND IDEALS IN THE US CONSTITUTION CAME FROM THE INDIANS, BUT THEY GOT NO CREDIT FOR IT, AND WERE NOT PART OF THE ILLEGAL OCCUPATION GOVERNMENT
Credit/source
US Uncut
American students are taught that democracy was invented by our Founding Fathers, who adapted it from Ancient Greece. This is a myth as foolish as Columbus "discovering" America. The U.S. Senate even passed a resolution in 1987 finally acknowledging that "the confederation of the original thirteen colonies into one republic was influenced by the Iroquois Confederacy, as were many of the democratic principles which were incorporated into the constitution itself."
CONSTITUTION OF THE UNITED STATES IS BASED ON IROQUOIS GREAT LAW OF PEACE
The Great Law of Peace of The Longhouse People
No date of origin for this document has been confirmed by historians, although it is believed to be at least a thousand years old. Both the Charter of the United Nations and the Constitution of the United States of America are founded on the Iroquois (Haudenosaunee) Great Law of Peace.
The settler's had to overthrow this Native Indian government, perform a (slow motion) coup, and take over the whole country, to get what they wanted, which was the land and the resources (for free). So that is exactly what they did, using the justification of Indians not being human, (done to all enemies).
If Indians were not human, that meant they could be bought, sold, killed, hunted down, traded, and be treated just like animals. Religion was used along with other justifications. If someone is not a member of the same religion, that makes them pagan, and justifies their genocide, per the Old Testament, but almost all religions have this as a basic dogma and belief system, which justifies both revenge and genocide equally.
Killing people and hunting them like animals means that nothing can be learned from them, and that is exactly what happened. America became an unsustainable Capitalistic enterprise, based on greed, fear and anger. The seeds of destruction are built into this unsustainable system.
ARE WE CELEBRATING THE AMERICAN DREAM? YOU HAVE TO BE ASLEEP TO BELIEVE IT
Where did the term 'American Dream' come from? What does it really mean? Is it tied up with the 4th of July 'Independence' myth?
The American Dream… what is it really?


As George Carlin says; "You have to be asleep to believe it."
Was it really worth it ethically, morally and spiritually speaking to take this whole country from someone else, just to be able to declare 'independence' and try for something called the 'American Dream'? Yes, those same forefathers had to fight the British to get it. Was the price that was paid really worth it, just to sing songs to some flag, on a 'birthday' that does not really exist, playing a game that is rigged in favor of a few people pulling strings behind the curtain?
ARE WE CELEBRATING THE DESTRUCTION OF OTHER CULTURES AND TRADITIONS, OR THE OPPOSITE?
Additionally, the official church position of that time was that all Indians were Godless, and the Bible encouraged wiping out all pagan civilizations, so the church was behind killing them all, due to their pagan belief system. Native American children were forcibly removed from their parents and homes. Those children were then indoctrinated in how to speak, dress, believe, and speak in a 'proper' way. Their parents were forced to move off out of their homes and away from their lands, unto worthless 'reservations' that no one else wanted..

On the positive side, after the initial purging/genocide and then discrimination against new 'immigrants', the US has become the greatest melting pot of cultures and tradition in the world, so maybe that is what we are celebrating.. There is no where else in the world where a person can find so many different kinds of cultural celebrations, foods, restaurants, churches and traditions.
ARE WE CELEBRATING FAKE HONOR AND GLORY THROUGH ILLEGAL TAKEOVER OF A NATION?
The date of the Declaration of Independence is when war was declared both on the Indians and on the British, so this day is heavily influenced by military honor, and celebrating the troops who died. Watch mass media TV to get this connection, as the military is present on TV shows all day long, and it plays these themes celebrating violence and warfare. But what did those soldiers who killed Indians fight and die for? Wasn't this more a hostile takeover and illegal invasion of a sovereign nation, rather than Columbus 'discovering' a fertile land free of any people?
Was it really worth it to abuse other (Native American) people even worse, just to say to our abuser that we grew up with; "You can't abuse me any more!"? And who in their right mind would 'celebrate' this kind of thing? That can't be what the 4th of July is about in this modern age, can it? Anyone in favor of celebrating this old fashioned definition of independence from one abuser just to do it even worse to someone else would then also have to be supportive of slave owners, wife beaters and serial murderers, wouldn't you agree?
19 To 100 Million Native American' Indians Exterminated By 'Settlers'; via @AGreenRoad
http://agreenroad.blogspot.com/2013/05/19-to-100-million-native-american.html
LET'S ALL CELEBRATE COLUMBUS DAY, SHALL WE? ANOTHER MYTH THAT IS STILL BEING PROMOTED IN SCHOOLS AND COLLEGES ALL ACROSS THE US
Credit/source
US Uncut
US Uncut
In his book 'The Devastation of the Indies', Bartolome de las Casas, the priest who accompanied Columbus on his conquest of Cuba, detailed the abuse and murder of the native population:
"And the Christians, with their horses and swords and pikes began to carry out massacres and strange cruelties against them. They attacked the towns and spared neither the children nor the aged nor pregnant women nor women in childbed, not only stabbing them and dismembering them but cutting them to pieces as if dealing with sheep in the slaughter house.
They laid bets as to who, with one stroke of the sword, could split a man in two or could cut off his head or spill out his entrails with a single stroke of the pike. They took infants from their mothers' breasts, snatching them by the legs and pitching them head first against the crags or snatched them by the arms and threw them into the rivers, roaring with laughter and saying as the babies fell into the water, "Boil there, you offspring of the devil!"
Other infants they put to the sword along with their mothers and anyone else who happened to be nearby. They made some low wide gallows on which the hanged victim's feet almost touched the ground, stringing up their victims in lots of thirteen, in memory of Our Redeemer and His twelve Apostles, then set burning wood at their feet and thus burned them alive. To others they attached straw or wrapped their whole bodies in straw and set them afire.
With still others, all those they wanted to capture alive, they cut off their hands and hung them round the victim's neck, saying, "Go now, carry the message," meaning, Take the news to the Indians who have fled to the mountains. They usually dealt with the chieftains and nobles in the following way: they made a grid of rods which they placed on forked sticks, then lashed the victims to the grid and lighted a smoldering fire underneath, so that little by little, as those captives screamed in despair and torment, their souls would leave them…."
ARE WE CELEBRATING THE BUYING AND SELLING OF HUMAN BEINGS?
The average person today certainly would not support this definition of
'independence'
anymore, correct? "
Natives were sold to buy wine, oil, and vinegar, salt pork, items of clothing, a horse, or whatever else the butcher and his men imagined they might need. A man would be invited to choose from among fifty or a hundred young girls the one he most fancied, and she would then be handed over in exchange for wine or oil or vinegar, or for a side of salt pork. Two or three hundred young men would be lined up in similar fashion, the price being much the same. It happened that one young man, the son of a chief, was traded for a cheese; on another occasion a hundred natives were exchanged for a single horse.
‪
Our forefathers killed the original owners of this land, stole their land and resources. But this takeover of a country was not enough. Those same forefathers then enslaved hundreds of thousands of people of African descent, bringing them in as cargo in the holds of ships for forced labor in order to get richer quicker, because the free riches from a hostile takeover of a nation were not enough. The US was not the only country to do this by any means, but this is part of US 'history'. Can you imagine this happening today, and then celebrating that war, genocide, slavery, apartheid, forced labor and discrimination?
Institution, History And Current State Of Apartheid By Other Means
http://agreenroad.blogspot.com/2013/03/institution-history-and-current-state.html
Are we celebrating the past imperial conquest, genocide and racism, or the opposite of it? Do we really want to go back to those 'good ol days', when only wealthy, white, male landowners could vote or own property, and it was ok to have slaves, and act in an openly racist manner? Some people would say yes to this statement, but then we have to go back to the question of who really 'owns' this country. If immigrants should all go 'home', that would mean everyone except for American Indians would have to leave, correct? And if all immigrants have to learn the original citizens language, then everyone now living in the US should learn how to speak an Indian language, because they are the original citizens, and their language should be the one everyone has to learn.
Practically speaking, this will never happen of course, but it serves to illustrate how easily myths and false beliefs spread and then are adopted by the population.
US Global Slave Trade And The Middle Passage; Slavery And Apartheid Is Alive And Well In Many Countries Today
http://agreenroad.blogspot.com/2014/10/global-slave-trade-and-middle-passage.html
ARE WE CELEBRATING NO VOTING RIGHTS FOR MOST OF THE POPULATION? ARE WE CELEBRATING SLAVERY?
On July 4th, 1776 WE WERE SLAVES... While the white man celebrates declaring, fighting, and winning his Independence, what the hell are we celebrating? No longer can we allow tradition to override common sense. WAKE THE HELL UP BLACK PEOPLE!!!
Is the 4th of July really about celebrating the good old days when women, poor people, Indians, slaves and renters could not vote, had no rights, and could not own property?
Credit/source; New Internet Union Of American Citizens
In the US, women did not get the vote or own property until just recently. Maybe on the 4th of July, we could be celebrating the freeing of the slaves, the end of outright blatant racism, and the fact that women now have the right to vote, divorce abusive men and own property, and that poor people who rent but don't own property can now also vote?
Those things sound better to celebrate than the hostile takeover of a nation and killing most inhabitants, while slaughtering millions of buffalo just to take away their food supply.
US Global Slave Trade And The Middle Passage; Slavery, White Supremacy And Apartheid Is Alive And Well In Many Countries Today
Pacifist Women Are Rising Up, Using Peaceful Weapons And Tools - Feminism And International Women's Day For Women's Rights Explored And Explained
ARE WE CELEBRATING THE EXTINCTION AND MASS DIE OFF OF 120 SPECIES PER DAY?
Via PBS: "Researchers estimate that prairie bison alone numbered between 30 million and 200 million, while a woodland variant existed in smaller numbers. Some U.S. government officials even promoted the destruction of the bison herds as a way to defeat their Native American enemies, who were resisting the takeover of their lands by white settlers. One Congressman, James Throckmorton of Texas, believed that "it would be a great step forward in the civilization of the Indians and the preservation of peace on the border if there was not a buffalo in existence." Soon, military commanders were ordering their troops to kill buffalo — not for food, but to deny Native Americans their own source of food. One general believed that buffalo hunters "did more to defeat the Indian nations in a few years than soldiers did in 50." By 1880, the slaughter was almost over. Where millions of buffalo once roamed, only a few thousand animals remained. Soon, their numbers dwindled, with the largest wild herd — just a few hundred animals — sheltered in the isolated valleys of the newly created Yellowstone National Park. As American Buffalo shows, it is from this tattered remnant that people are today trying to rebuild the once mighty buffalo nation.
ARE WE CELEBRATING THE EXPORTING OF MILLIONS OF JOBS TO COMMUNIST CHINA?

Are we celebrating other globalist corporations wanting us to buy more and more toxic, poisonous stuff produced by slave labor in foreign countries, who form alliances with enemies of this country and all that it stands for?

Who would celebrate that?




Communist China Winning War Against USA, Without A Shot Being Fired; via @AGreenRoad

On the 4th of July, are we celebrating huge global military for profit corporations such as Blackwater, who want us to wage unending war for huge no bid profit contracts, starting with the war against the British and the Indians?
ARE WE CELEBRATING WINNING THE WAR ON COMMUNISM DUE TO SPENDING MORE MONEY THAN ALL OTHER CIVILIZED NATIONS ON EARTH, COMBINED?
Maybe we are celebrating the war on Communism? Oh, no, that can't be, because we lost that war too..
Communist China Winning War Against USA, Without A Shot Being Fired; via @AGreenRoad
ARE WE CELEBRATING MYTHS THAT DON'T REALLY EXIST?
This article has already explored some of the myths that make up the urban legend which is called the United States.. But let's go explore another one. Did Columbus really 'discover' America?
Historical Myth; Columbus 'Discovered' America; The Canary Effect; via A Green Road
Starting with the discovery of America by Columbus and the fact that most of the wars fought by this nation have been started, based on outright lies or deception, we have to ask the question... are we celebrating that culture of violence based on lies, that is more about war profiteering and hostile takeovers of other countries rather than true freedom and democracy?
Source/credit
Coup Media Group
Censored, Top Secret! Art And Science Of Deception; Global Corporations, ALEC, TPP, CIA, Journalism And The 1%, Whistleblowers, Voting, Elections And Solutions
http://agreenroad.blogspot.com/p/corporations-art-and-science-of.html
ARE WE CELEBRATING FORCING ORIGINAL INDIAN INHABITANTS ONTO WORTHLESS LANDS?
Maybe some people do want to celebrate our forefathers forcing Indians into worthless 'reservations' and them having to put up with abandoned uranium mines, broken treaties and toxic nuclear waste garbage dumps in more recent history. The discrimination and maltreatment of the Indian nation has not stopped, it has just changed form, into a corporate takeover of Indian nations, whenever it suits them, in order to make short term profits.

The following articles are just the tip of the iceberg. These kinds of things are never heard on the mass media, because that would hurt the 'image' of holy corporations, who can never do wrong.
Uranium Mining; Broken Promises, Broken Rainbow ; via @AGreenRoad
http://agreenroad.blogspot.com/2012/04/uranium-mining-broken-promises-broken.html
3,200 Abandoned Uranium Mines in Just 4 States, Broken Treaties, Uranium Dust Blowing Over US Mount Rushmore Monument; via @AGreenRoad
http://agreenroad.blogspot.com/2013/11/3200-abandone-uranium-mines-in-just-4.html
ARE WE CELEBRATING 'FAIR TRADE' LAWS AND INCOME INEQUALITY?

Are we celebrating the 1% and that they keep on getting richer at the expense of everyone else and the planet with unlimited 'free market' agreements that squash aborigine cultures, sovereign country rights, worker rights and environmental laws globally?




TPP - Trans Pacific Partnership Is Being Rammed Through Congress



ARE WE CELEBRATING CORPORATE 'OWNERSHIP' AND CORPORATE RIGHTS??

The people and forces behind the scenes are the same kinds of individuals that created the USA, and the broken treaties, plus the 'limited votes' paperwork to go with it. Many of 'founders' were slave owners. They chose to not allow women, slaves or Indians to vote or to be treated as equals.

The 1% behind the scenes are the ones driving all of the wars, broken treaties, conflicts, divisions and take overs of politicians, and other countries via illegal invasions and the exporting of millions of jobs to Communist countries such as China and Vietnam. Most people are not celebrating that, or are we?
Art And Science Of Deception; Global Corporations And The 1%
ARE WE CELEBRATING BEING BEST FRIENDS WITH COMMUNIST CHINA, WHICH IS THE WORLD'S BIGGEST HUMAN RIGHTS VIOLATOR?
Maybe some people believe that the US is the greatest country in the world and that is why we should celebrate that.. But is the US really the greatest, and if so, who is the US being compared against? The US is now best friends with Communist China, which has no rights, no freedoms, and keeps citizens pretty close to slavery. Is that worth celebrating on the 4th of July?
The US Is STILL The Greatest Nation On Earth, Right? via @AGreenRoad
ARE WE CELEBRATING CORPORATIONS OUTSPENDING THE PEOPLE 10 to 1 IN ELECTIONS?
Corporations outspend citizens and unions by $10 to $1 in elections. The politicians with the most money get elected most often. Politics is no longer about who does the best job of representing the people's interest (the 99%). Politics nowadays is mostly about who has the better PR campaign, financed by corporations, that he or she sold their soul to, in order to get that money, just so they can take marching orders from those corporations, who are now their 'boss'. Politics now is about who can lie and deceive the people best on behalf of the corporate 1%. Politics now is about who can rule in secret behind the scenes, and get away with it. Maybe it is time for another revolution, like the one in Estonia?
Bill Moyers; How To Buy Your Own Election And Politicians With Dark Money; via @AGreenRoad
http://agreenroad.blogspot.com/2012/06/bill-moyers-how-to-own-elections.html
How Corporations Control Governments, Media, Politicians; Confessions Of An Economic Hit Man; via A Green Road
Maybe it is time to shift paradigms. Hopefully, the old 4th of July meanings and paradigms no longer work for people in this modern, more enlightened and aware age. People no longer advocate, much less tolerate slavery, oppression, or women/Indians not being allowed to vote. Even war is going out of 'fashion' as it becomes more and more toxic, dangerous and the consequences of it become more obvious. Maybe it is time to turn off the mass media propaganda machines, and quit paying to be hypnotized to believe what the Matrix corporate machine wants people to believe?


ARE WE CELEBRATING POISONING OF THE PLANET WITH THINGS LIKE DU AND PLUTONIUM POISONS?
NATO's Dark Secret - Depleted Uranium; via @AGreenRoad
Maybe we can celebrate our 'independence' from the old, outworn, outmoded and obsolete paradigms that no longer work and start working to protect our local community and 7 future generations of OUR children from a few rich, old, white people and their 'personhood right' to make unlimited profits on the backs of the 99%, while taking over our government, our media and then deceiving everyone into going along with their toxic, Earth killing suicide system?
How Dangerous Is 400-6000 Pounds Of Plutonium Nano Particle Dust Liberated By Fukushima?
http://agreenroad.blogspot.com/2013/08/how-dangerous-is-400-6000-pounds-of.htm
l
ARE WE CELEBRATING THE DESTRUCTION OF THE PLANET BY GREENWASHING CORPORATIONS?
Due to people demanding green products, many corporations seem to be doing the green thing.. But upon further and more in depth examination, many if not most of them are actually greenwashing.
Greenwashing; Fake 'Green' Products, Services And Industries; Misleading Half Truths And Public Manipulations
http://agreenroad.blogspot.com/2014/07/greenwashing-fake-green-products.html
The greenwashing corporations who are pretending to be green, are the direct cause of the following negative tipping points, which of course, most people have never heard about..
List of 45+ Negative Global Tipping Points; via @AGreenRoad
http://agreenroad.blogspot.com/2014/04/2014-list-of-45-global-tipping-points.html
Supposedly, settlers back in the good old days freed themselves from 'tyranny' back in England. These days, it looks like that same 'tyranny' is here to stay, like an out of control house guest that got access to all of your bank accounts and personal information. The house guest is firmly in control. That house guest puts people in power that gives them that right, and then raids your bank account whenever they want, and helps themselves to your retirement account too, while filling up the house with toxic and deadly garbage, which you have to pay to clean up, because the house guest refuse to... (Note; All of the money in Social Security was 'borrowed' out long ago).
ARE WE CELEBRATING GETTING DEEPER AND DEEPER INTO DEBT AND UNSUSTAINABILITY?
All the wealth of the US is slowly being drained out of it and is being transferred to the 1%. The real money has been stolen, and fake money is now the norm, but most people don't even understand the difference, much less realize that they have been lied to, hookwinked and all their wealth has been stolen.
This transfer of wealth went to the same 1% that like to claim that Columbus discovered America, and that America is the greatest, and we need a much more powerful military. Only fascist governments need a really powerful military with 1,000 global military bases.
1,000 US Foreign Military Bases In Foreign Countries - 2 Trillion Dollars And Rising Cost
http://agreenroad.blogspot.com/2013/09/1000-us-foreign-military-bases-in.html
ARE WE CELEBRATING THAT THE US GOVERNMENT NO LONGER REPRESENTS THE PEOPLE?
Two-thirds of the survey's respondents felt that they have no say in government, with 73 percent believing the government does not rule with the consent of the people. "People like to say that the country is more divided than ever," Caddell said, "but in fact the country is united about one thing: that the political class does not represent them, that the system is rigged against them. There is a belief that the system is rigged, and that's what we need to understand."
ARE WE CELEBRATING THE PRIVATIZATION AND SELLING OFF OF EVERYTHING THAT USED TO FREE AND IN THE COMMONS, SO CORPORATIONS CAN PROFIT FROM IT?
Source/Credit; People Over Politics
WHAT WOULD BE WORTH CELEBRATING ON THE 4TH OF JULY?
Now let's look at the bright side, and the reality of what may be worth celebrating, because there is a lot to celebrate.. Remember how unions are demonized in the mass media? Have you ever wondered why? Could it be that because unions are representing workers, that corporations hate unions and want to do away with them, completely?
ARE WE CELEBRATING UNIONS AND WHAT THEY FOUGHT AND DIED FOR?
Maybe we are celebrating the achievements of many generations of workers fighting for worker's rights, the right to form a union, worker safety laws, and equal pay for women, among other battles fought on behalf of the 99%. But that battle is being lost, so it is not really worth celebrating. Millions of jobs have been lost to Communist China, just so a little more profit can be made.
How Corporate America Is Killing Unions And The Middle Class Workers; via A Green Road
ARE WE CELEBRATING WORKERS RIGHTS?

Of course, people have the right to celebrate the right of the 1% to keep taking advantage of child labor, no minimum wage, and no worker rights, plus forced private prison labor. Maybe some people really do want to celebrate the right to treat people like slaves and export all middle class jobs to Communist China, where no unions, no rights, and no freedom is the order of the day.
PBS; New York Triangle Shirtwaist Factory Fire - The Reason For Worker Rights, Unions, Voting Women, Safety Laws, And More; via @AGreenRoad
http://agreenroad.blogspot.com/2013/07/pbs-new-york-triangle-factory-fire.html
ARE WE CELEBRATING THE ESTABLISHMENT OF VOTING RIGHTS FOR WOMEN?
Wikipedia; "We women of America tell you that America is not a democracy. Twenty million women are denied the right to vote. President Wilson is the chief opponent of their national enfranchisement".
[105]
Another banner on August 14, 1917, referred to "
Kaiser
Wilson" and compared the plight of the German people with that of American women. With this manner of protest, the women were subject to arrests and many were jailed.
[106]
On October 17, Alice Paul was sentenced to seven months and on October 30 began a
hunger strike
, but after a few days prison authorities began to force feed her.
[105]
After years of opposition, Wilson changed his position in 1918 to advocate women's suffrage as a war measure.
[107]
The key vote came on June 4, 1920, when the Senate approved the amendment by 56 to 25 after four hours of debate, during which Democratic Senators opposed to the amendment
filibustered
to prevent a roll call until their absent Senators could be protected by pairs. The Ayes included 36 (82%) Republicans and 20 (54%) Democrats. The Nays comprised 8 (18%) Republicans and 17 (46%) Democrats.
The Nineteenth Amendment, which prohibited state or federal sex-based restrictions on voting, was ratified by sufficient states in 1920
.
[108]
ARE WE CELEBRATING SOME PEOPLE WAKING UP AND REALIZING IT IS TIME FOR A PEACEFUL REVOLUTION?
Maybe it is time to take back the reigns of power via a peaceful revolution. Maybe it is time to throw the corrupting influence of money out of politics and the mass media, nationalize all of the corporations and REALLY gain independence for the citizens of the USA and other countries as well. Maybe the true American Independence battle has yet to be fought and won, against the 1% who seem to think that they can control, mislead, lie to and manipulate, while extracting all of their wealth, all of the time?
Chris Hedges on Occupy And Death Of The Liberal Class
Video;
https://www.youtube.com/watch?v=4-C8FZcnkko
1 hour 20 min
At the very least, let's quit pretending that something called the USA which is just a fake look alike, kind of like most Chinese goods, is mostly controlled by the 1%. The USA is not really 'independent', it is rather a wholly owned subsidiary of globalist corporations. It may be time to celebrate, but how about asking the American Indians what they feel like celebrating, and then do whatever that is with them? If the native inhabitants feel there is something to celebrate, whatever that is, that is what should be focused on, not a fake July 4th celebration about some mythical 'independence' many years ago..
ARE WE CELEBRATING TRUE INDEPENDENCE AND FREEDOM FROM CORPORATE TYRANNY?
Why can't people elect representatives who don't take corrupting money from corporations that have absolutely corrupting power, like Bernie Sanders for example? Was Bernie a 'wasted vote'? Isn't he an example of what independence truly means? Maybe we can celebrate the few people left in Congress like him on the 4th of July. Why can't more people be like Bernie Sanders, standing up for what really matters? They say people deserve to get what they vote for, and that must be true.
A Successful, Peaceful Citizens Revolt And Revolution Happened In Iceland, Copy Their Model In Your Country!
http://agreenroad.blogspot.com/2014/12/a-successful-peaceful-citizens-revolt.html
ARE WE CELEBRATING AMERICAN INDIANS LIVING IN A SUSTAINABLE FASHION FOR 40,000 YEARS?

American Indians and aborigine peoples all over the world have been living in a sustainable fashion for tens of thousands of years before the settlers and Columbus arrived. Why can't we manage to do something that simple? Maybe we have something to learn from these people who possess an ancient and wise knowledge?

Maybe they can teach us something, if just sat still long enough to listen to them, instead listening and watching the mass media propaganda to consume more and buy more, but think less and less, and question nothing at all.




American Indians Have Inhabited The US Continent For 40,000 Years In A Sustainable Fashion, Why Can't Our Modern 'Civilization' Do That?; via @AGreenRoad
THE TRUE VERSION OF THE STAR SPANGLED BANNER
Via Gasser
July 15, 2014
The Star Spangeled Banner
~The bad way it is~
Oh, say can you see….by the dawn's early Gamma ray light

What so fearfully we failed….of the twilight's last gleaming.

Whose broad spreading Corium's and bright sky shine….through perilous fright

O'er the chemical ramparts we watched….Atomic water come streaming.

And the Corium's red glare….the hydro volcanoes bursting in air

Gave proof through the night….that NRC bullshitter's were still there.

O say, does that Rising Sun banner yet wave

O'er the land of the dying and the Yakuza thugs so naive.
O say, does that star-spangled banner yet wave

O'er the contaminated USA….land of the Tax enslaved.
And the home of the blind sheeple so naive
THE NEW VERSION OF THE STAR SPANGLED BANNER
~The good way it should be~
Oh, say can you see….by the dawn's early computer back light

What so intensely enenews'ers breath held….at the poster's last streaming.

Whose broad spreading truth with bright minds…..through courageous might

O'er the LCD screens we watched…..Pro Nuker's just dreaming.

And the posters LCD screen glare….lit up for solutions to stop Nuclides in air

Gave proof through the nights that enenews truth heros were still there.

O say, does that NO! NUKES! banner yet wave

O'er the internet of the wise and the intelligent not so naive.
O say, does that reinstated star-spangled banner yet wave

O'er the United States of America….the land of the smart and brave.
~Gasser Classic~
LET'S CELEBRATE THE RIGHT TO VOTE
As we have learned from this article, most people in history never got to vote. The right to vote is so precious, please don't throw it away. How about celebrating that right of independence by voting only for people who don't sell their souls for the almighty corporate dollar, like Bernie Sanders, or Cindy Sheehan, just to name a few choices.

Stand up for freedom from corporate tyranny by making a difference and striking a blow for TRUE freedom and independence, because you are one of those lucky people, who can vote.
GREEN NEW DEAL; How To End Global Unemployment; via A Green Road
http://agreenroad.blogspot.com/2012/10/green-new-deal-how-to-end-global.html
Is it time for a revolution yet?
MAYBE WE CAN CELEBRATE A SINGING, PEACEFUL REVOLUTION
Poli-tics = many tics..... maybe it is time to haul out the flea spray and start spraying for tics.... There sure seem to be a lot of corporations sucking blood from the public treasury these days. Maybe we can declare this an emergency public health disaster and put some anti - blood sucking tic policies in place?
The Singing Revolution Film; How Estonia Gained It's Freedom By Singing A Revolution
In summary, this article presents a positive vision for humanity. We can celebrate people's efforts to move past all of this dysfunctions. We can celebrate the successes outlined above, and others as well. We can celebrate that we are creating a better future for 7 future generations.
Let's come together and celebrate the unity of the 99%, and what the 99% have accomplished, despite the best efforts of the 1% to suppress and deny the 99% equality, rights, and freedoms all over the globe by pitting one group against another.
Something simple that everyone can do, is to vote. Vote for a third party. Vote your conscience, not your fear or for the lesser evil.
Real Time with Bill Maher: Why Voting Matters (HBO)
Video;
https://youtu.be/DV5zREdE-KE
13 Reasons Why People Don't Vote; 13 Reasons Why You Should Vote, How To Fix The Broken Elections System
http://agreenroad.blogspot.com/2012/11/10-reasons-why-people-dont-vote-and-ten.html
Ten Key Green, Sustainable Values, How The Green Movement Continues To Grow In Double Digits; Help It Grow Faster With Your Vote And Direct Activism
http://agreenroad.blogspot.com/2012/05/green-party-and-green-movement.html
WHAT YOU CAN DO; LEARN, TEACH AND RECITE A NEW PLEDGE OF ALLEGIANCE
WHAT YOU CAN DO; ENDORSE, LEARN, TRANSFORM, DONATE, SHARE, SUPPORT, SPONSOR, CONNECT, COMMENT, AND/OR COLLABORATE
DONATE
Please help AGRP get this news out... thanks for your generous and very appreciated support! What you support grows and expands. What you withhold support from shrinks, shrivels and disappears. Even .50 cents per month is a great help. What is teaching the science of sustainable health worth?

-------------------------------------------------------------------------------------

Donate To A Green Road Project; Help Dr. Goodheart Teach How To Make A Positive Difference For Seven Future Generations Of Children, Animals, Plants And The Planet
TRANSLATE
JOIN THE NETWORK OF OTHER ACTIVISTS; PLUG INTO AGRP
COPYRIGHT
Wayne Dyer - What You Think, You Become (Wayne Dyer Meditation)
"Copyright Disclaimer under Section 107 of the Copyright Act 1976, "ALLOWANCES ARE MADE FOR FAIR USE" for purposes such as criticism, comment, news reporting, teaching, scholarship and research. Fair use is a use permitted by copyright statute, that otherwise might be infringing. Non-profit, educational or personal use tips the balance in favor of fair use." For more info go to:www.lawcornel.edu/uscode.
WHAT YOU CAN DO: SHARE THIS ARTICLE
A Green Road; Teaching the Science of Sustainable Health.


Keep asking - what works for 7 future generations without causing harm?


Support AGR and share this article via by copying and pasting title and url into;
End